Inspection Overview
Walking you through the Inspection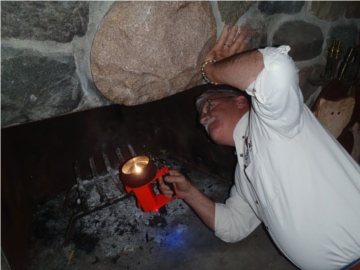 You don't need an inspector to point out that your floors are scratched or the paint on the wall is peeling. Cosmetic flaws are generally the least of a persons worries.
Instead, Ray will go to great lengths to bring problems and potential problems to your attention. This includes a thorough analysis of all the accessible systems, components and structures that make up your home. That means everything from the windows, doors and chimneys to the electrical, heating and plumbing; be it up in the attic, down in the basement or the crawl spaces in between. This thorough inspection usually lasts between two to three hours and will leave nothing to the imagination.
In fact, Ray encourages you to be there for the inspection. This way, questions and concerns can be addressed on the spot. Depending on your comfort level, you are welcome to accompany Ray throughout the inspection. Once the inspection is complete, you'll have a chance to backtrack and review everything he has found. Dozens of pictures taken during the inspection will be brought up on a lap top computer right on site. Rays objective is for you to feel completely comfortable with the inspection and your purchase. There is no time limit on this. It's whatever it takes for you to be 100% satisfied with your inspection.
Leaving the right Impression
At Capital Home Inspection Services Inc. we understand that a three-hour inspection might be a lot to remember and digest.
This is why our trained inspectors use digital cameras, infrared thermometers and laptops to capture, store and generate information right on site. Ray will make it a point to snap pictures regularly to provide a visual log (and proof) you can refer back to at anytime; pictures that can come in handy when dealing with potential buyers, real estate agents or possible contractors, repairmen and insurance agents.
Of course, all the training, licenses and technical expertise in the world can't replace a dedicated inspector who can level with you at the end of the day. Our top priority is to ensure you will ultimately be able to differentiate between major and minor problems and know exactly how to remedy any problems.
Following through with the Report
There are too many inspectors who deliver otherwise thorough and detailed inspections in reports that are difficult to understand. At Capital Home Inspection Services Inc. we produce computer-generated reports that are easy to read and user-friendly, leaving you with no doubt as to the required course of action. In order to meet the various demands of our clients, these reports can be printed and dropped in the mail, delivered by e-mail or retrieved with a password-protected section on our website.
Keep in mind that the inspection does not end with the bill. Because we are required to carry Professional Liability Insurance, you will be covered for any errors or omissions in the inspection or final report. This guarantee extends to your realtor as well.
One of the most common misconceptions is that an inspection without any negative findings was a waste of money. Nothing could be further from the truth. Inspections leave you with valuable peace of mind that allows you to rest easy knowing that your investment is a healthy one.
Inspection Overview
A home or building cannot fail an inspection. This is a question that is routinely asked. Every person has different standards. You as the buyer ultimately decide whether it is up to your standards. A professional inspection gives you an independent, unbiased view of any problems and their solutions, so that you will have all the facts you need to make a sound, informed decision.
We take our inspection reports seriously. Every inspection is a complete and thorough analysis of all the major systems and components in the home. The report includes a clear description of what we've found with any problem areas noted, so you can easily identify them. Our inspectors also provide a free telephone consultation after your inspection.
A thorough property inspection will include the following:
~ Roof (shingles, flashings, chimneys, vents, trim and gutters, drip edges, skylights, downspouts, and other visible roof related items)
~ Plumbing and Fixtures (water pressure, water distribution system, hose bibs, sinks and faucets, bath/showers and toilets, sanitary system, and other plumbing system components)
~ Heating and Cooling Systems (furnace, air cleaning parts, ductwork, electronic monoxide testing, electric gas sniffer testing, air conditioner and lines, and other visible related HVAC components)
~ Basements, Crawl Spaces, and Foundation (insulation, ventilation, posts, vapor barriers, utility attachment, structural items, floors and walls, and columns)
~ Attics (insulation, ventilation, rafters, joists and collar ties, trusses, wiring attachments, and other visible related items)
~ Interior (floors and ceilings, walls, stairs (if applicable) and banisters, finishes, sinks, cabinets, shelving, built-in appliances, smoke detectors and safety-related items, and other visible interior-related components)
~ Electrical Systems (service entry and clearances, service panel, switches and outlets, visible wiring and junction boxes, grounding system, and other related electrical components)
~ Exterior (siding materials, EIFS/synthetic stucco, attachments, windows, doors, sashes and lintels, vents, entryways, and other visible exterior related components)
If applicable:
~Well/Septic evaluation. This includes teaching you how to sanitize your well, Water sampling is optional. Septic systems evaluations are completed with an invasive inspection.
~ Environmental Issues
~ Decks and Porches
~ Fireplaces
~ Overall Structure